Its been a while since I posted anything since I built My Brummbar and with my next project in the process of acquiring the parts I decided to give building an Open Panzer TCB as the cost of another IBU2U board was putting me off as my next project is Pz3 Based and I would struggle to fit one in anyway.
I searched the internet to get as much information as possible and was surprised at the amount of various ones that have been built by far more talented people than me.
And before I go any further I will admit I have minimal experience with electronic components and how they actually work.
So A BIG THANK YOU

to every body who has taken time out to share their findings and information to enable a novice like me to even attempt to try and build one.
My advice to anybody who would want to have a go at building one is start with the Open Panzer Forum and read as much as you can as I did and follow any links to other peoples builds as there are plenty out there that have very clear instructions and parts lists to enable you to get started.
I built my test board using some PCB prototype board and an Arduino MEGA2560 Pro
Like this one
https://www.ebay.co.uk/itm/174014097131 ... Sw6zNdaWhG
I downloaded a electronic circuit building program called Fritzing and started designing my TCB using a collection of diagrams and assorted info found and printed off regarding the componants required and how to connect them to avoid setting fire to it all'
## EDITED 08/02/2022 Updated Fritzing diagram to reprizent the finished board ##
This is what I ended up with.
It does not have the IR battle capability added as i just want a TCB that has movement,sound,light and servo control for traverse,elevation and barrel recoil all of witch the OP TCB can do and adjust accordingly.
The movement will be provided by 2 cheap brushed ESC's.
Like these
https://www.ebay.co.uk/itm/384276691240 ... BMuuL-ptdf
The sound Can be provided by a Taigen sound card just as a standard Taigen tank would use so you would need a card and speaker along with a volume knob.But I will be using a Dasmikro mini sound card on my one.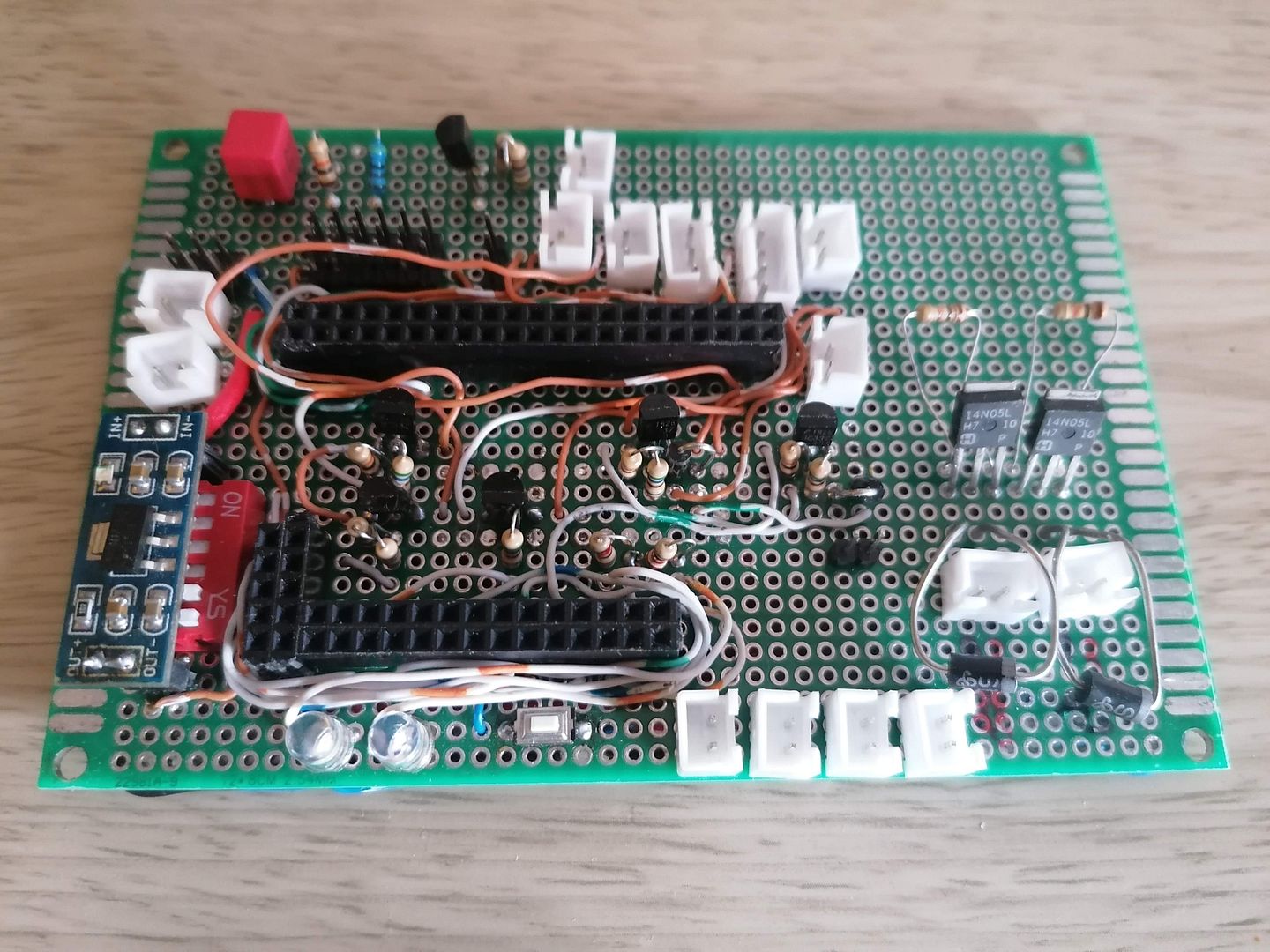 This is my prototype board and yes it is messy but it has had various things added and not all are used as I was trying different outputs to see what did and did'nt do what I wanted.
This was an early test to see if it all worked and I was more than pleased with how it went.