I am EDITING on 06/30/2017. My apologies for all the missing photos. They were all hosted at Photobucket and they're telling me that unless I pay them $400 every single photo I've ever posted to the internet through them will be blocked. Fortunately most of my stuff is in video format and so far youtube hasn't tried anything. I just hope PB isn't giving them ideas.





I hope you enjoy the thread, so far it's been a very fascinating build.
Hey, Men, I have received notice that the new Hetzer will be delivered Monday so I'm going to start the thread and post all the pics I received from the seller prior to shipping. I've discussed this at RCU and started a thread there, but due to recent format changes at RCU this will be the main build thread and a lot will get posted here and only here. It was always in the plan to do a dual build thread, one here and one at RCU, but that new software is not making Gary a Happy Camper so they'll have to take what I can figure out how to post. Here at RCTW I'm right at home and know how everything works so you guys get the full benefit of my insanity.

I've enjoyed many great build logs right here (one of my current faves is Carl's Panda Hobbies 38T) and I think others out there might enjoy them as I do so I want to make this as comprehensive as my lazy old butt can manage. Questions and advice are are always welcome. I have two excellent Gurus on this project that are both well versed in 1/6 scale, and if they want to make themselves known that's cool with me, but I won't blow their cover.

As good as my two partners in this little caper are, there's one area where I still may need some help, and that's paintball. I know there are volumes of rules on the subject in certain locales, but here in the land of the second amendment paintball is pretty tame so I pretty much have free rein. So ... any paintball gurus out there?
I think a brief history is a good place to start. Not long ago I got a call from a friend that had fallen on hard times and needed to raise some cash (ain't we all been there?) and he offered to sell me his brand new Imex/Taigen Panther F for a great price. I couldn't really afford it, but did have some liquid capitol and wanted to help out my Bud, so I decided to buy it and put it up for sale on RCU. I don't usually post tanks for sale here at RCTW because of the outrageous shipping costs across the Big Water. Anyway, I posted it at the exact price I paid for it, plus actual shipping cost, and I soon got a PM from a gent in California. Right away there was a little red flag because this man had been a member at RCU since last September but had yet to make a single post or start a single thread. But, I have yet to be burned at RCU so I got back to him and everything went beautifully. He paypalled (sp? Is that even a word? The past-tense for "paypal"? Paypal as a verb?) the loot and I sent the tank and it arrived in great shape and he's a happy camper, I'm a happy camper, and my Bud at least got the coin to fix his daughter's vehicle if he did have to give up his Panther F, so I guess he's a semi-happy camper. Anyway, during the course of our communications it came up that this Gentleman was into 1/6 scale tanks but due to space considerations was making the change to 1/16 scale. He had already sold his Tiger One, but still had a Blitzkrieg Armor Hetzer kit, still new in the box and unassembled.
To make a long story short, I was able to buy this kit at what I think is a very reasonable price (my two gurus agree that I got a fair deal, but I haven't really tried to pin them down for an opinion on the price I paid, maybe because I fear what I might hear) and the Gentleman was kind enough to use a professional shipping company that does a lot of art work and other valuable items (at additional expense to himself, for which I thank him) and they have informed me that the package will arrive at my shop on Monday. It will be 36x22x18 inches and it weighs 81 lbs. Keep in mind that the Hetzer was one of Germany's smallest tanks in WWII, so it won't be as impressively large as one of the big cats, but for a first tank in 1/6 scale I think I really lucked out and made a significant score.
So here are the photos I received pre-shipment, and you guys know I'll post photos and video when she arrives. I have not yet decided on a paint scheme but I'm open to suggestion on that. I think this kit is rare enough to deserve as much accuracy as I can muster, so I'm counting on every single one of you guys to contribute your knowledge to make this tank the Jewel of my (fledgling) Collection. I have two other 1/6 scale RC projects in the wings, a Dragon Kubel kit and an Armor Hobbies Sd.Kfz.250 Halftrack that I really want to RC eventually. If I someday get good enough to produce a working Schwimmwagen I'll consider my life complete.

With a 1/16 KT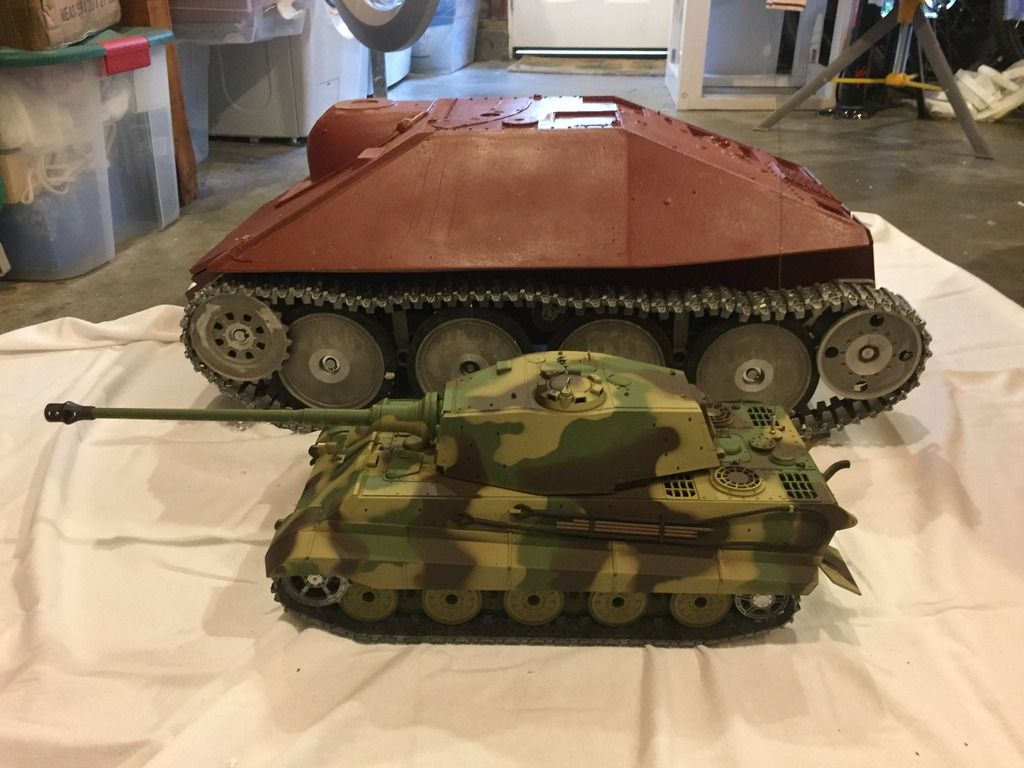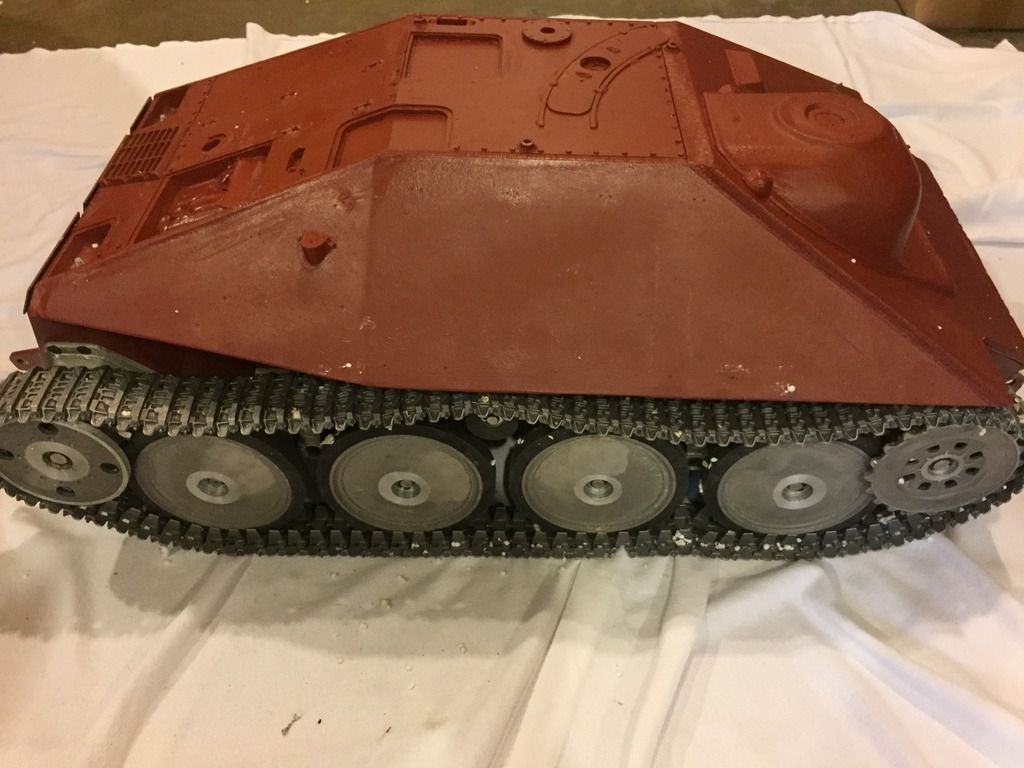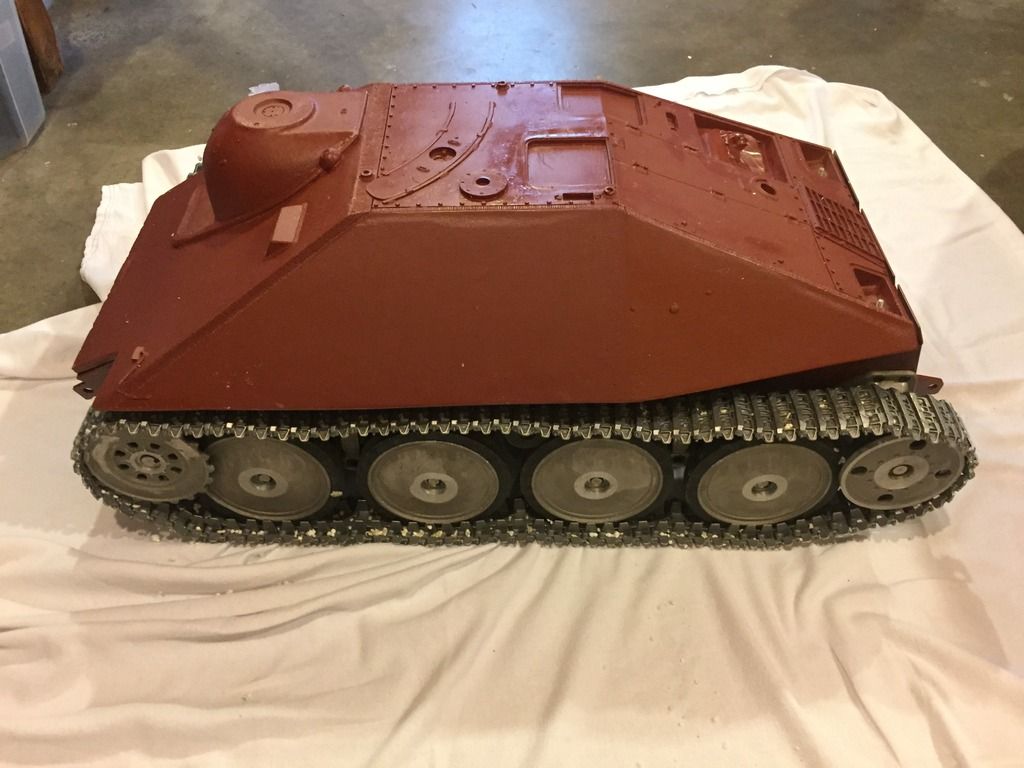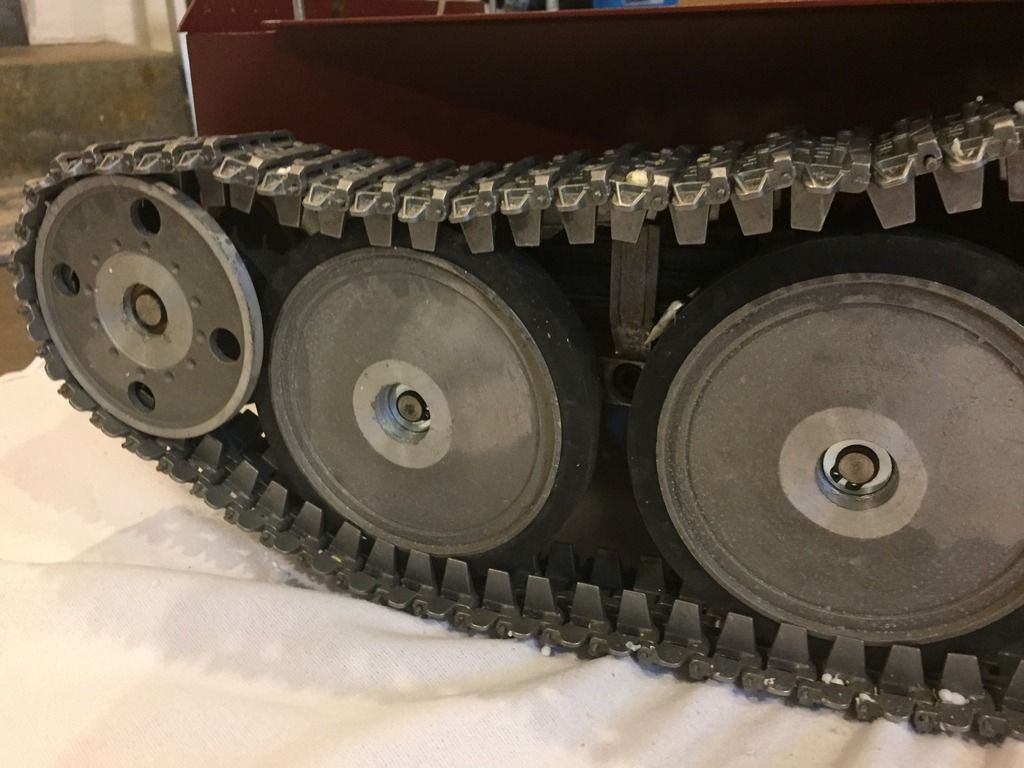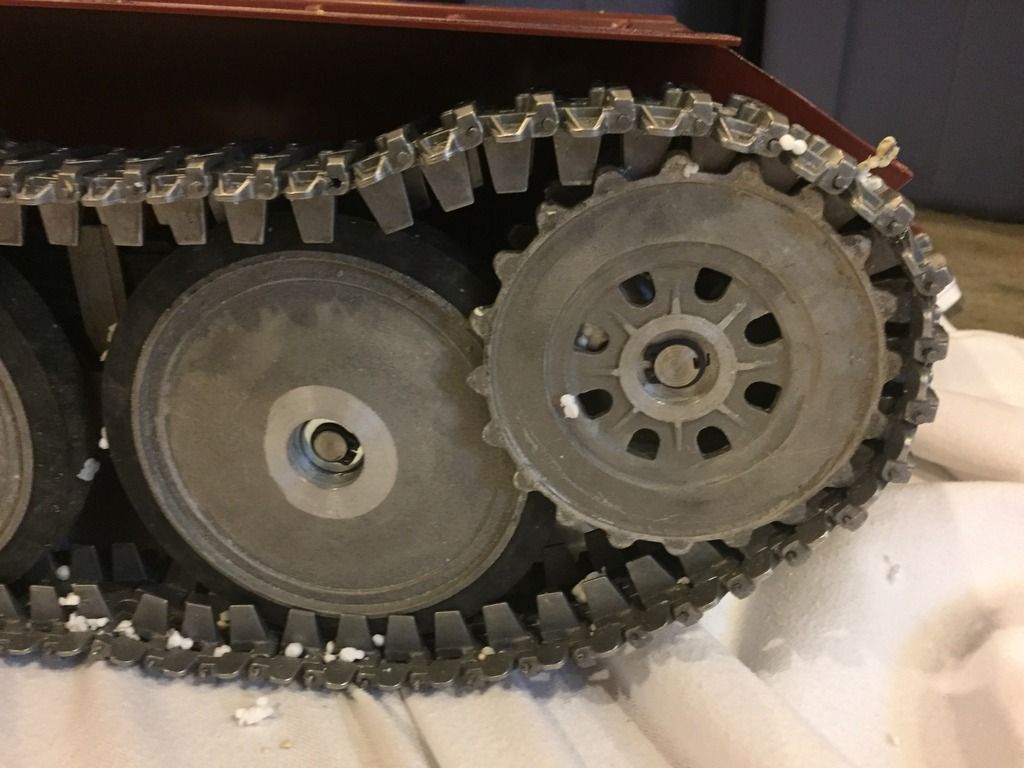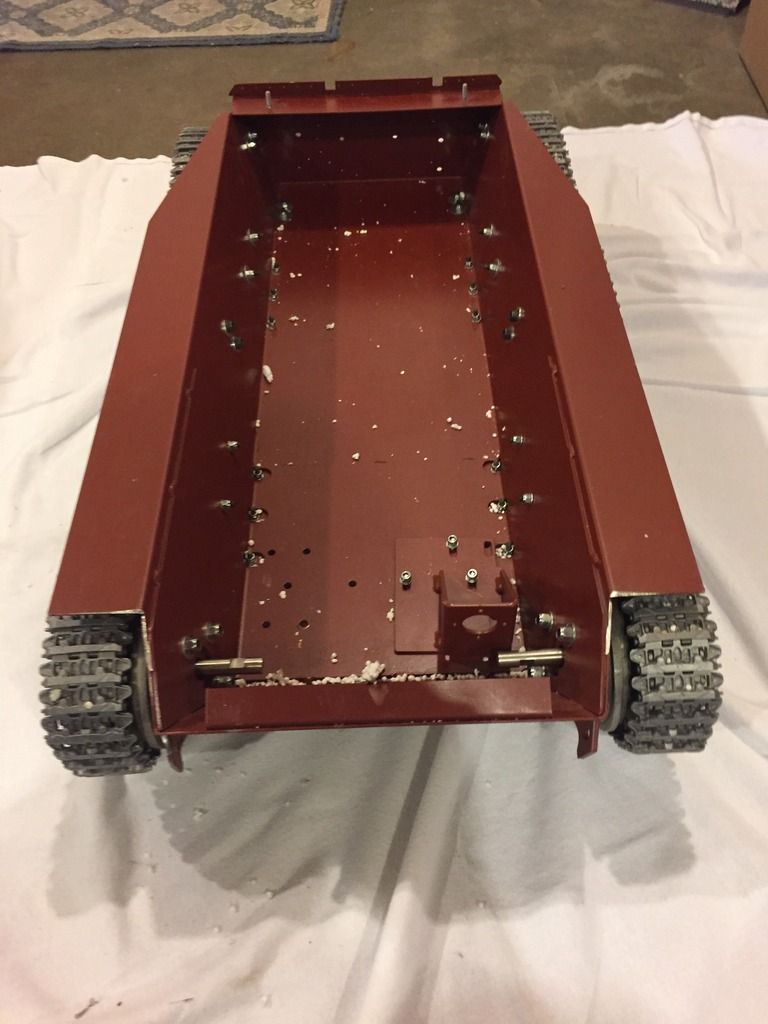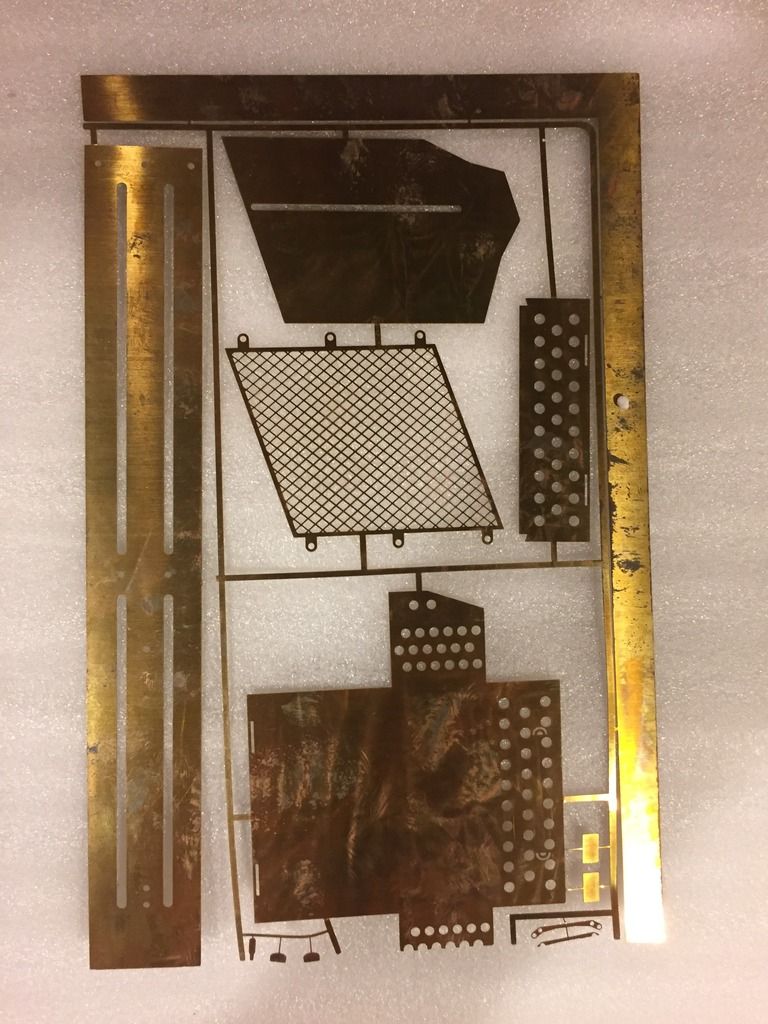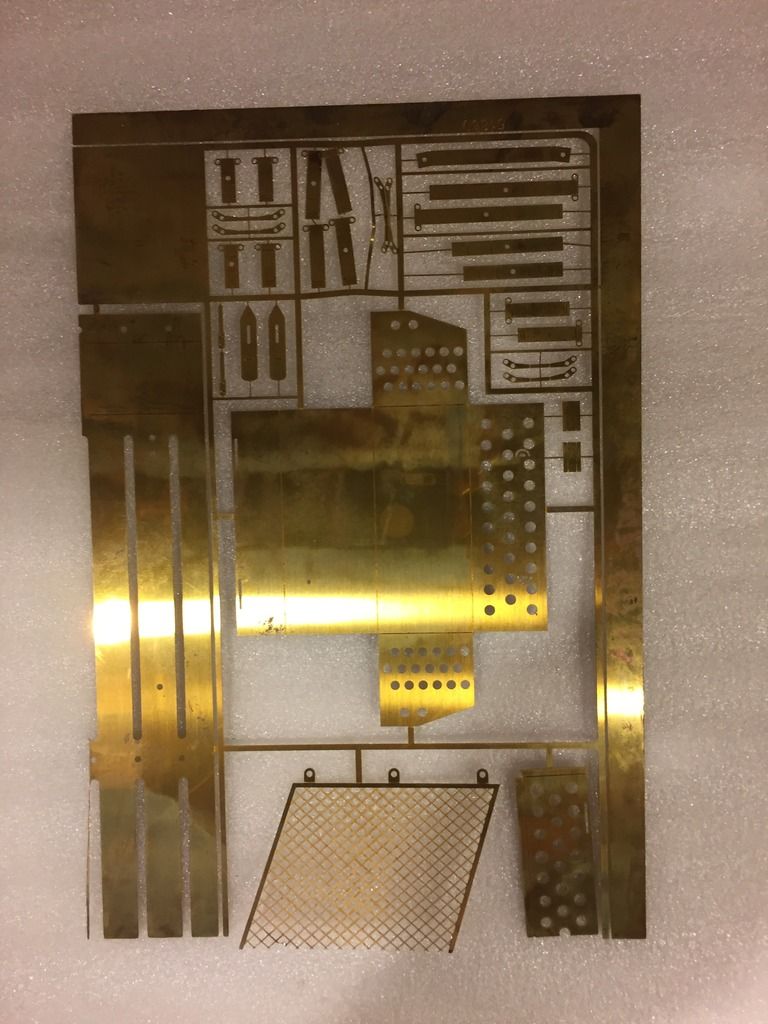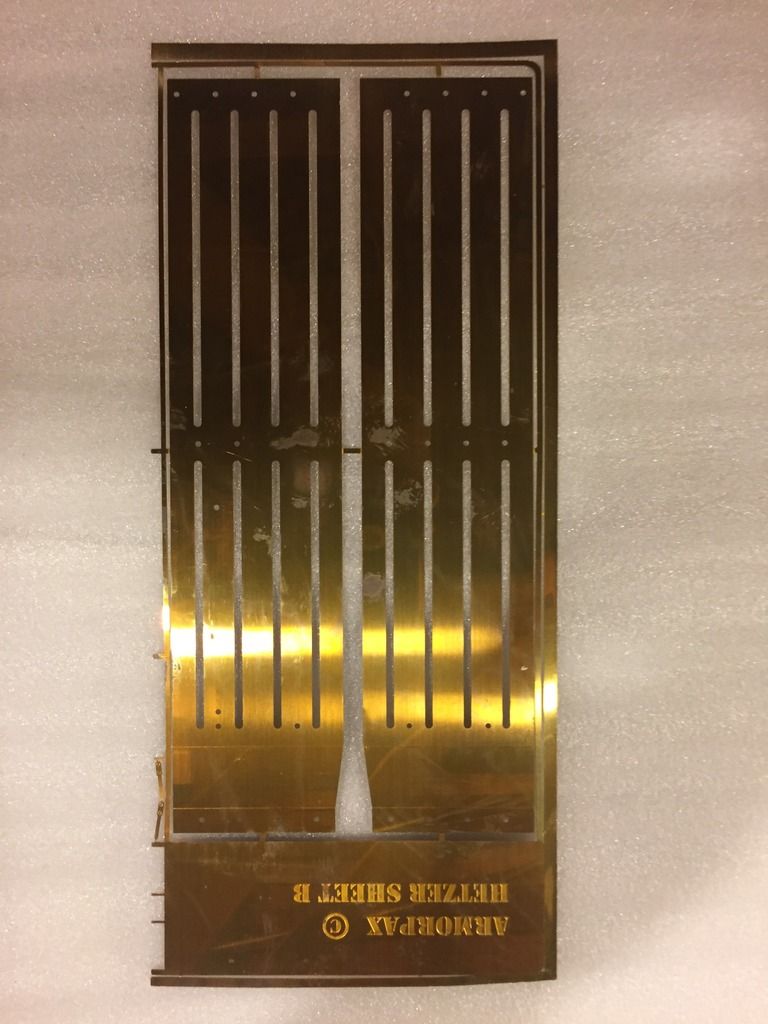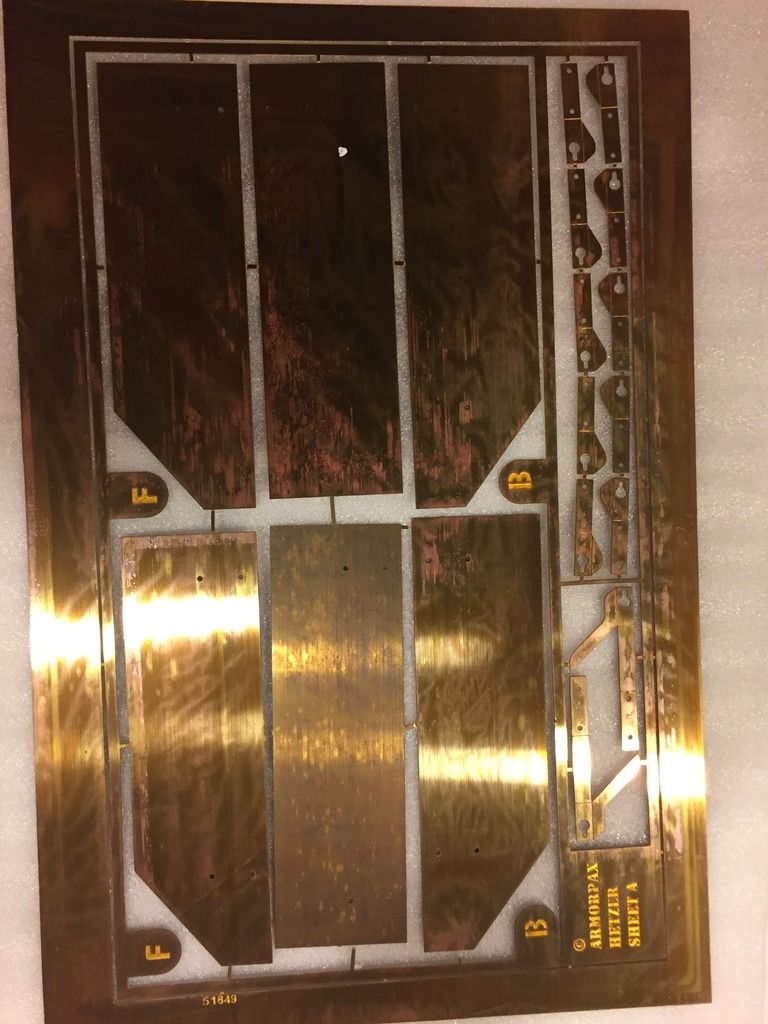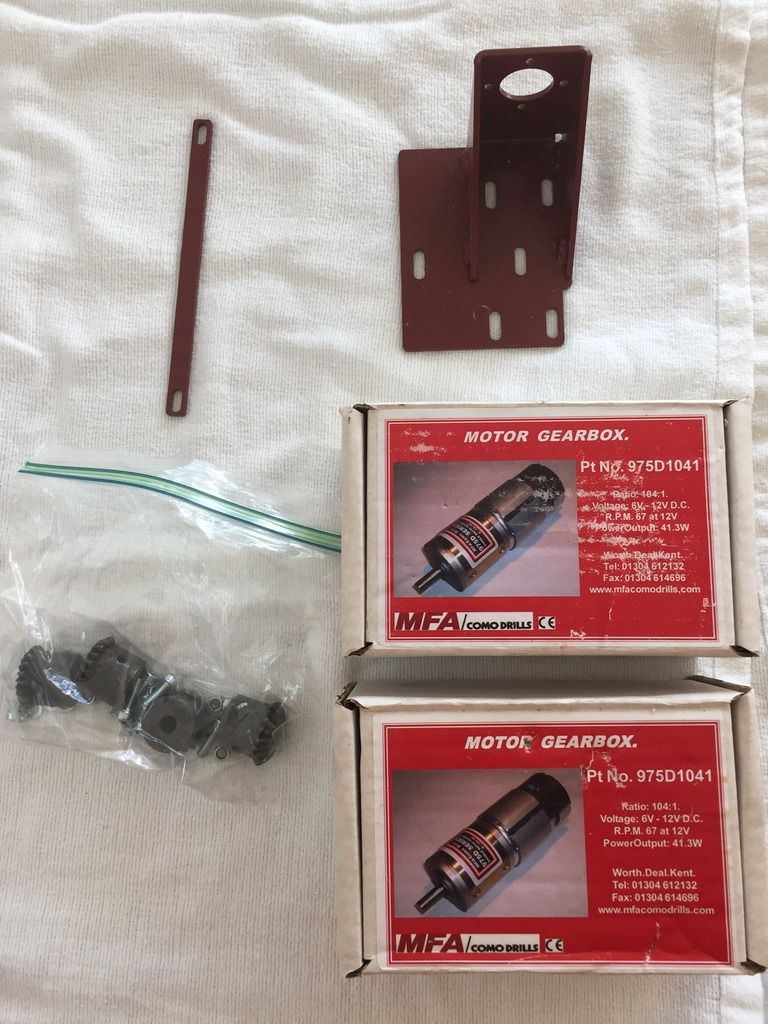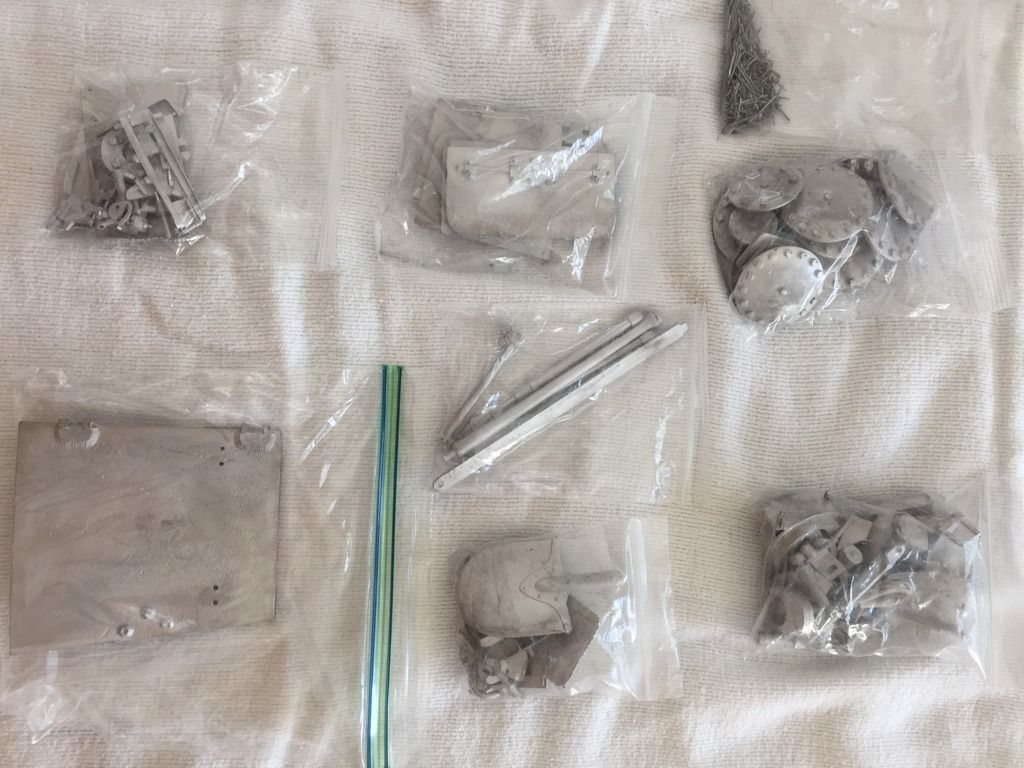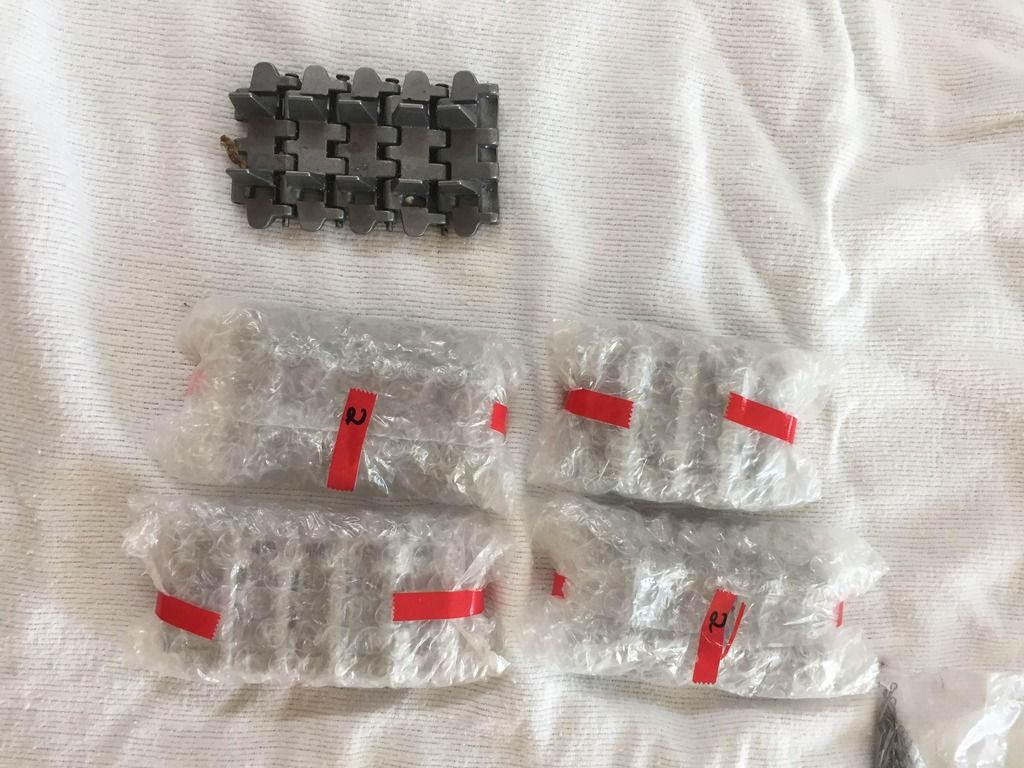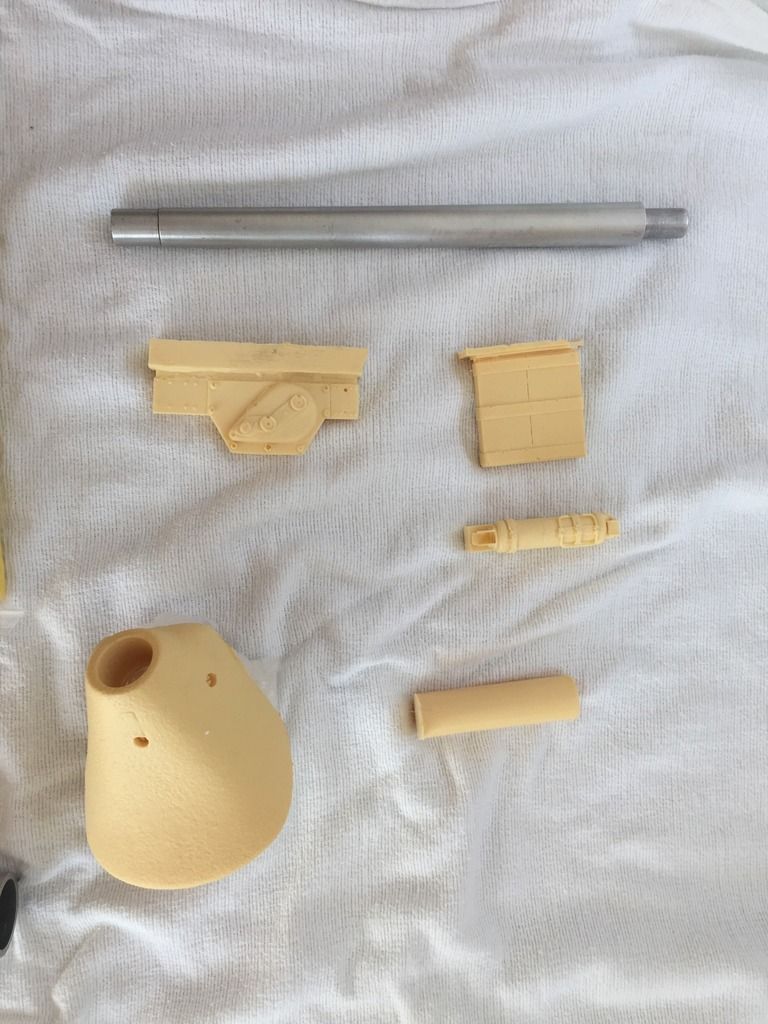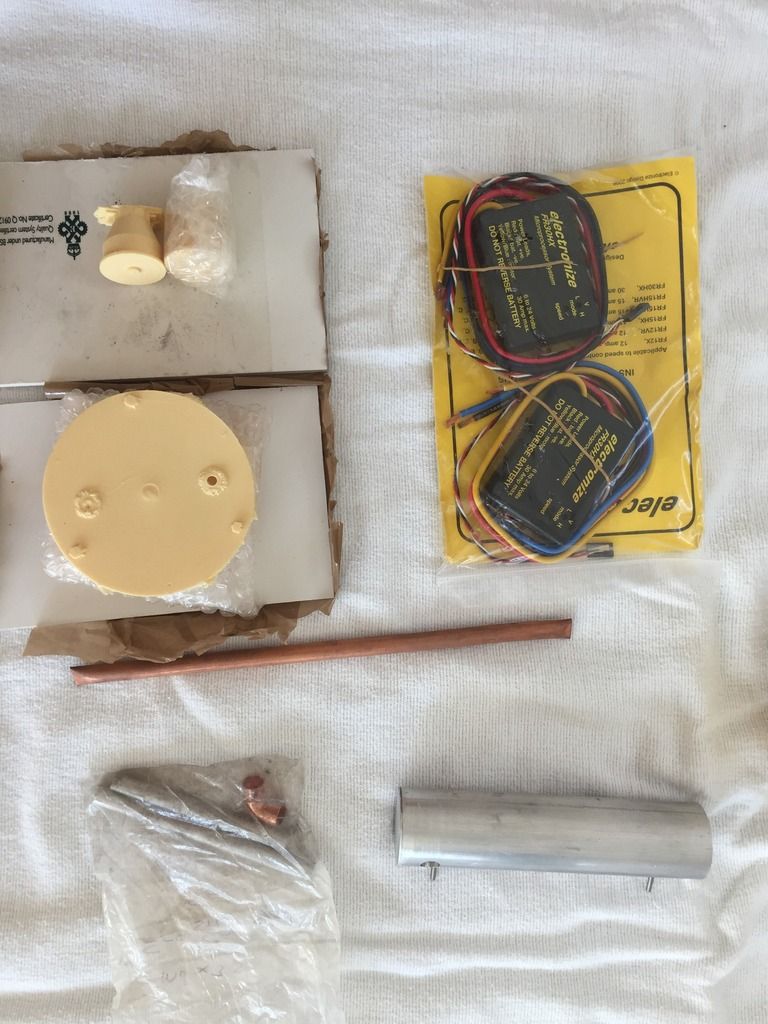 So there she is, Fellas, what do y'all think? I'm not sure what (if any) provisions there are for track tensioning, but it looks like I'll have to remove a link or two from each track.